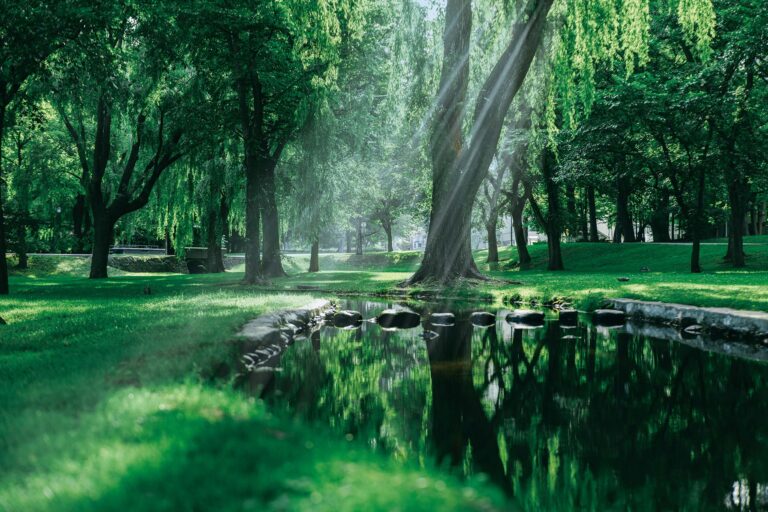 The origins of Hokkaido University date back to 1876, when its predecessor, Sapporo Agricultural College, was founded as one of the earliest degree-awarding institutions in Japan. The College later became an imperial university and then a national university. In 2026, Hokkaido University will celebrate its 150th anniversary. During this 150-year history, Hokkaido University has made significant strides towards its objectives while cultivating as its ethos the four basic philosophies of frontier spirit, global perspectives, all-round education, and practical learning.
While the year 2026 will be a milestone year for the University, it will also mark the beginning of the next 150 years. In the next 150 years, we will strive to contribute to the resolution of global issues as a unique, unparalleled institution.
We at Hokkaido University are poised to forge ahead with projects and programs that commemorate the University's 150th anniversary, under the slogan "ambition to enlighten the world." Just as light is composed of the three primary colors, we strive to create a brighter society by promoting and integrating the three themes of sustainability (protecting the future 150 years from now), innovation (contributing towards the resolution of global issues), and diversity (promoting diversity in research and education).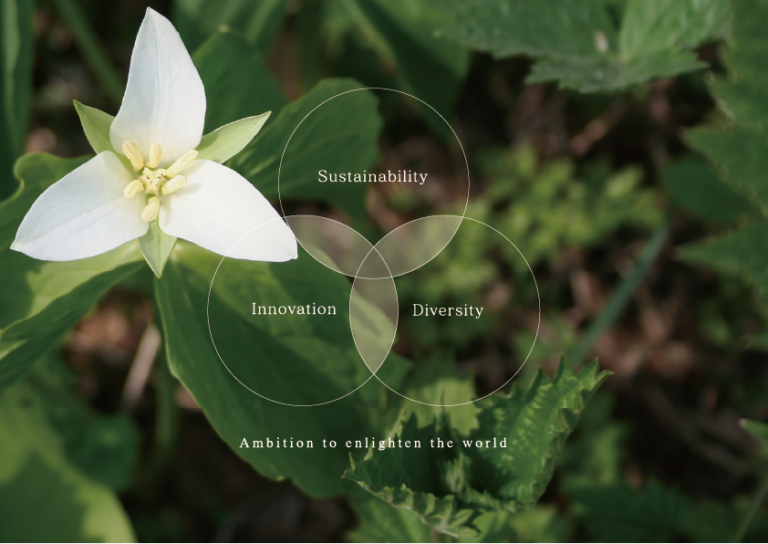 Sustainability—Protecting the future 150 years from now
To create a better future based on our 150-year history, we at Hokkaido University are committed to promoting sustainability through various initiatives. Our aim is to help create a sustainable society through social collaboration and environmentally-friendly campus development, as well as through education and research. We have numerous initiatives underway, centering on the Institute for the Advancement of Sustainability, which was established in 2021. They include ongoing efforts to reduce our environmental footprint on our campuses, as well as initiatives to conduct cutting-edge research by nurturing our world-class natural capital both within and beyond the campuses, including experimental farms, a livestock farm, a botanical garden, and research forests. These multiple initiatives earned Hokkaido University the 10th place in the world on the Times Higher Education Impact Rankings 2022. We will keep striving to help achieve the Sustainable Development Goals (SDGs) and to effect positive change in people's lives within the local community and around the world.
Innovation—Contributing towards the resolution of global issues
The challenges facing today's society, such as accelerating population decline and advancing climate change, seem intricately overlapping and intertwined. We believe that one of the missions of universities going forward is to apply their wisdom to the issues of our time. In 2021, we reaffirmed that belief under the slogan "Contributing towards the resolution of global issues," in order to take on the challenge of addressing the plethora of issues facing us. Specific measures include greater social collaboration: Through enhanced collaborations with local government bodies, companies, and various other stakeholders, we will develop a vision of what the future society should look like, and will work to catalyze innovation to bring that vision to reality. We will also accelerate the launches of R&D startups from the University to develop an ecosystem that will deliver a continuous stream of innovations. We have taken our first step forward to further advance our cutting-edge research and create new values in order to guide Hokkaido from being a region that is "advanced in challenges" to one that is "advanced in solutions."
Diversity—Promoting diversity in research and education
Hokkaido University announced the University's Statement on the Promotion of Diversity and Inclusion in December 2021. It reaffirms its commitment to fostering bias-free campuses for the new era to come. The progress of globalization and advances in digital technology will leave the world's borders and boundaries even more blurred. This will make diversity, equity, and inclusion essential in education and research, where people from diverse backgrounds work together. We at Hokkaido University believe that embracing diversity and having a deep understanding of one another will lead to an education that produces well-rounded individuals and to research that infuses society with renewed vigor. We have begun our journey to create more diverse and inclusive campuses where all members can feel proud and have their dignity respected, regardless of race, ethnicity, nationality, age, gender, lifestyle, or any other factor.
Logo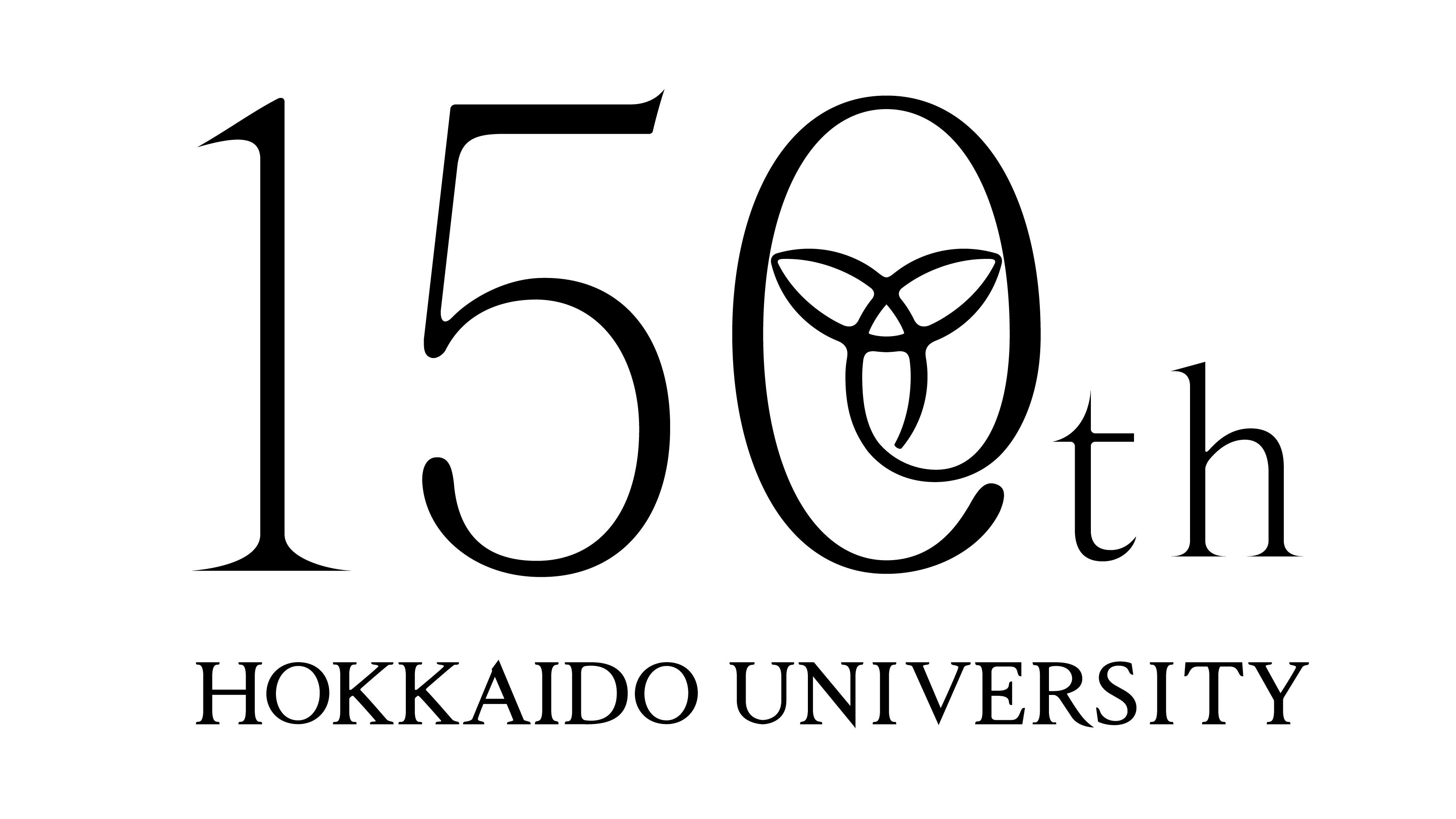 The design of the 150th Anniversary logo was inspired by the trillium flower, the symbol of the University. The logo incorporates the silhouette of this three-petaled flower made from overlapping circles in the illustration of the anniversary themes. The design is simple yet eye-catching, stylized to evoke the light and brightness that emanate from the slogan "ambition to enlighten the world."
Organizational Structure for 150th Anniversary Projects and Programs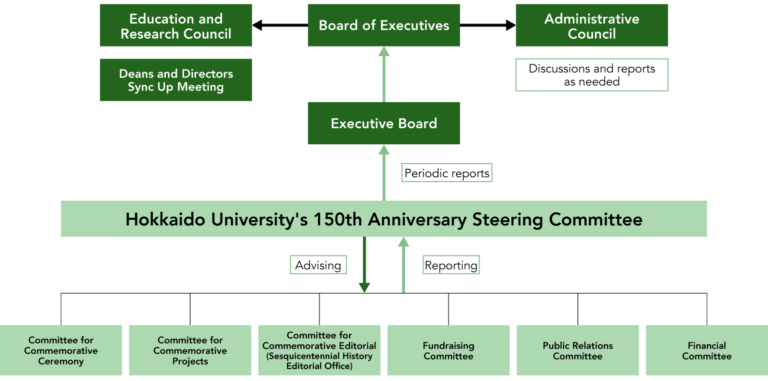 Hokkaido University's 150th Anniversary Steering Committee Members
| Name | Affiliation/Position |
| --- | --- |
| HOUKIN Kiyohiro | President |
| YAMAGUCHI Junji | Executive Vice President |
| YOKOTA Atsushi | Executive Vice President |
| MASUDA Takao | Executive Vice President |
| YAMAMOTO Fumihiko | Executive Vice President |
| SUGAWARA Nobuyoshi | Executive Director |
| YUKIMATAU Yasuhiro | Executive Director |
| UMEHARA Toshiyuki | Executive Director |
| FUJITA Takeshi | Dean of Faculty of Humanities and Human Sciences |
| NISHIMURA Takanori | Dean, Faculty of Agriculture |
| HATAKEYAMA Shigetsugu | Dean, Faculty of Medicine |
| IJIRO Kuniharu | Director, Research Institute for Electronic Science |
| SETOGUCHI Tsuyoshi | Dean, Faculty of Engineering |
| KUROIWA Asato | Advisor to the President (Professor, Faculty of Science) |
| YANO Rika | Executive Vice Director (Professor, Faculty of Health Sciences) |
| SHISAI Satoko | Nitobe College Fellow |
| TAKITA Yosuke | Manager, Institute for the Promotion of Business-Regional Collaboration |
| OKUYAMA Toshiyuki | Director, General Affairs and Planning Department |
| HASEGAWA Yasuhiro | Director, Department of Public Engagement |
As of March 1, 2023